Another Model 3 takes on Pikes Peak.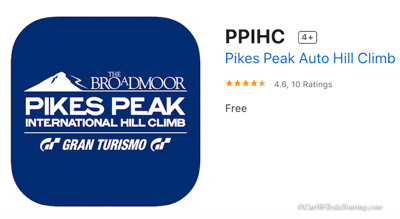 Left, Pikes Peak Map. Right, Pikes Peak App available at the App Store
Double-click to enlarge any image for a larger/readable copy.
"Unplugged Performance tuned Tesla Model 3 is set to take on Pikes Peak [Interview]" article by Electrek.co.
The article and Interview
.
Why do electric vehicles have an advantage over Internal Combustion Engine (ICE) cars on the Pikes Peak Hill Climb? (or any mountain driving?) I learned from the article above:
I
n Pikes Peak, both man and machine are put to the ultimate test…. 156 life-threatening cliff edge turns while the elevation climbs to a whopping 16,000-ft [Actually 14,115 ft.], choking the drivers' oxygen and decision-making skills.
The weather is bi-polar; changing from hail, high heat, rain, and snow. And the cars suffer too! Lack of airflow to the ICE engines, coolant runs thinner, horsepower crippled, oil viscosity changes, overheating, etc.
OK, if you haven't caught on by now, an electric car would be a wise choice, since the electric motor doesn't suffer from the altitude at all. It's almost a match made in heaven, and the perfect place to showcase your performance parts and modifications for Tesla.
The driver of this car, in the interview, also mentioned these advantages of an EV: 1. No gears or shifting 2. Silent power 3. Broad power band. 4. All-wheel drive. Unlike air-petroleum cars, EV's electrons don't care about altitude. Driver can adjust the power distribution front to rear (Stock Tesla 3 has 50/50 distribution front to back.)
Grille of "Unplugged Performance's" tuned Tesla Model 3. I presume this is for "thermal management" (battery heating).
Wonder if I could get a grille like this for Big Red?
Any image with a border can be clicked for a larger copy.
Update before the race from
Electrek Performance
: https://electrek.co/2020/08/26/tuned-tesla-model-3-crashes-at-pikes-peak-driver-wants-to-race-sunday/
Image from
Electrek Performance
link above.
More Crash, after-crash, and tow truck photos from
InsideEEVs Website
.
FINALLY, some inside the car video and audio of
qualifying a Model 3 at Pikes Peak on the upper half
, August, 2020. "Randy Pobst & Unplugged Performance - Pikes Peak 2020 Day 1 - Lower Section Qualifying Leader"
https://www.youtube.com/watch?v=rG7fqwD6xt0#action=share
Same day
qualifying on the lower half of Pikes Peak Hill Run
. I missed the gauges that were shown in the first video, and the camera angle was not as good as the first video as to seeing the road ahead. However, the best part was Randy's comments during the run and more importantly his summation at the end of the video.
https://youtu.be/rG7fqwD6xt0
Photos from Randy Pobst's (Driver) own YouTube Channel by Larry Chen, official photographer.
Any image can be clicked for a larger copy.
Above right, best still photo of the crash.
Photos from Randy Pobst's (Driver) own YouTube Channel:
https://www.youtube.com/watch?v=
80yiVdb39w4
---
Preparation of
Electric Performance Tesla Model 3 Performance
for Pikes Peak
Excellent update of pre-race qualifying:
https://www.youtube.com/watch?v=jA0qHZ20ChM
Electric Performance Tesla Model 3 Performance
at the starting line for qualifying.
Source
On the Pikes Peak Website, I found this profile on Blake Fuller, the Electric Performance entry's driver.
Photo Source
.
Pikes Peak International Hill Climb 2020 Results
As it turned out Blake took first place in Exhibition Class in his
2018 Tesla Model 3 Performance
with time of 11:02, 45 seconds faster than his 1st place finish in 2016 with a Tesla S. Complete run and interview of Blake right after his winning run at:
https://www.youtube.com/watch?v=DsfXeAJxymg&feature=youtu.be
2020 Unplugged Performance Tesla Model 3 Ascension-R
to second place with 11:04. Complete run with interior sound (Randy talks a lot more than Blake during the run). Watch the speed on the screen, even with thermal issues. This camera inside the car seems more interesting than the camera on the top of the car as with Blake.
https://www.youtube.com/watch?v=qvZMwiwnLVg
The third Tesla 3 crashed earlier, and was not heard from later in the week.
Interview of Blake Fuller the day after the race by Zak and Jesse of
Now You Know
Youtube: go to minute 3:30 of
https://www.youtube.com/watch?v=Zz5rzxKzz6w
Trip Statistics
- Tesla Model 3
I again took a short August trip of 128 miles in our 3-month-old Tesla 3 and used 171 miles of "expected range" for
75% efficiency
. It was very hot so the air conditioning was on full blast, and the Speed Limit on part of the trip was 70 mph. While at our destination, I noticed on the Tesla app that while parked in 109 degree heat that it was 125 degrees inside the car. I remotely turned on the air conditioning from the app and lowered the temperature from 125 to 75 degrees while parked and it cost 2 "miles" of electricity.
About a week later we took a trip to nearly the same location. We drove 118.2 miles and used 246 Wh/mi or 4.07 kWh per mile. Since I had charged to 100% at home, the trip cost us about $4.00 for fuel. Because it was hot at this location, I tried "Dog Mode" in the Tesla 3 which is for leaving your dog in the car. You can set the temperature. After 40 minutes, the car notified me that it had been 40 minutes. At that time I discovered "Cabin Overheat Protection" so I used it instead of "Dog Mode" and it kept the car from going over105 degrees. Of course, that took some "miles".
Cabin Overheat Protection
The climate control system can reduce the temperature of the cabin in extremely hot ambient conditions for a period of up to twelve hours after you exit Model 3. Touch Controls > Safety & Security > Cabin Overheat Protection and choose:
• OFF: Disable Cabin Overheat Protection.
NO A/C: Only the fan operates when the cabin temperature exceeds 105° F (40° C). This option consumes less energy but the cabin temperature may exceed 105° F (40° C).
• ON: The air conditioning operates when the cabin temperature exceeds 105° F (40° C).
Note: Cabin Overheat Protection operates only when the energy remaining in the Battery is above 20%.
From: Pg. 128 of the Owners Manual.


To me 105° in the car would have made the black seats unbearable, I still turned on the A/C from my iPhone just before we went out to the car to return home, cooling the cabin to about 75°.
Trip Statistics - I.C.E. 2013 Chrysler Town & Country
I have been surprised at the 75% efficiency of our Model 3, but I have never really checked on the efficiently of the expected range compared to the actual range. When I filled up with gas in our Town and Country last time, I recorded the cost - $44.16 for 15.949 gallons at $2.769 per gallon. More importantly, the car's MPG was 20.9. Since I have a 20 gallon tank and gas is $2.769, it would cost $55.38 to fill the tank and the predicted miles were 390 and my mileage was 98507. If the 390 is reached, that would equal 14 cents per mile for fuel in a 20 MPG ICE car compared to our Tesla Model 3 at 3 cents per mile for fuel.
After driving several miles in our I.C.E. car, I calculated the actual miles (117) compared to the expected range (390) and got a % efficiency of 58.5%. (far below our Tesla Model 3.)
Over the Air Software Update No. 2020.32.2
In less than 3 months of ownership, we have received 4 over-the-air software updates. The description of version 2020.32.2 follows:
Shots of the car's screen.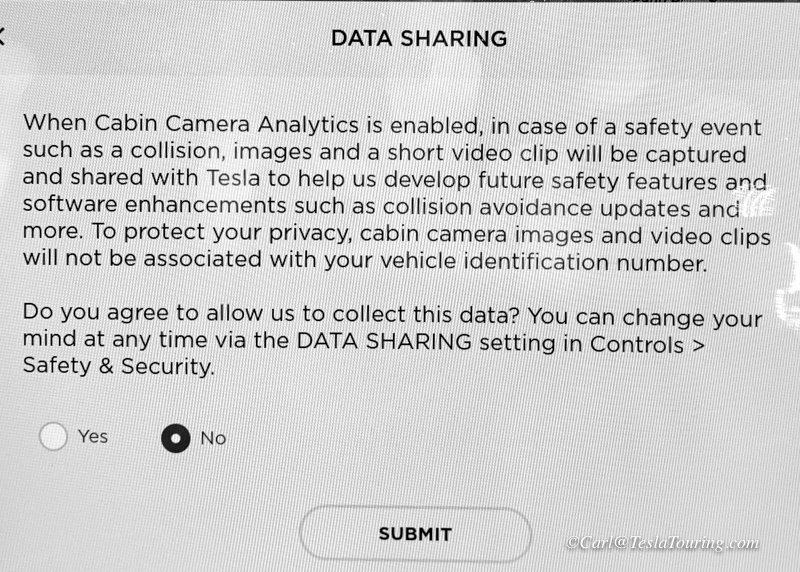 I answered "Yes" to this.
Speed Limit signs
This over-the-air update is supposed to show the speed limit sign on the left above, and chime when the stoplight goes green if you do not accelerate, but it takes some miles to calibrate. After a 1,000+ mile road trip, I don't see these 2 things happening. Perhaps they are for FSD models.

Teslas read speed limit signs, but does not adjust cruise if you enter a lower speed area to the lowered limit. I learned from a YouTuber that to drop cruise to the speed limit, tap the speed limit sign and it resets your speed to that new limit. Also good if you have set your cruise above the limit and think a radar unit might be up ahead, tap the speed limit sign to go down to the speed.
Traffic aware cruise in suburban driving.
Near our house is a highway with many stop lights. I like to set my cruise control to the speed limit so I am not speeding. The car will decrease speed if a car going slower, or stopped in your lane is detected, and resume when the light turns green. I must have been following a stick shift car today because after leaving the green light my car paused a bit while following the car ahead and it felt like I had shifted gears! Just a reminder why Teslas win drag races, no shifting.
Driving our Tesla Saloon.

I follow Tesla YouTuber,
SpawnPoint
in the UK and he refers to his white Model 3 as his "saloon"...the Queen's English for "Sedan".
Click on any image in this report for a larger, more readable, copy
Other car parts with different names in the UK compared to America.
Full list.
From: adrianflux.co.uk/

Clean Fuel Reward Program, Southern California Edison.
In an earlier report, I mentioned the
Clean Air Rebate Program for EVs
through my electricity provider, Southern California Edison.
Click here to read that report
.
September 4, 2020, I received my $1,000 check: